Plastic Welding Materials come in many sizes and shapes ultimately created for different welding techniques. There is no one size fits all or specific plastic welding technique to use in all circumstances. The user will need to create their own technique and hands on expertise related to the plastic welding tools, materials, materials shapes and repair or fabrication method required for the application. Please contact us if you need some guidance on how to fabricate or repair a particular part.
With that being said, selecting the matching material to the parent substrate is paramount to a successful plastic welding. There are several ways to select a material.
Look for the recycling code from 1 through 7 on the product to determine the parent material.
Look for the letters between the greater than, less than symbols such as <ABS> <PP> <HDPE> <PVC> <LDPE> etc. This is typically located next to the part numbers for automotive parts.
Follow our flow chart to burn the material to determine the parent material characteristics.
Purchase our Rod Test Kit to test for proper adhesion between the parent material and the rods provided. Be sure to follow our video on how to utilize the rod test kit
Polypropylene, ABS, HDPE and PVC are the most common base or parent materials used for plastic parts and thus the best to use for plastic welding. We offer all of these materials and more. Sometimes LDPE (Low Density Polyethylene) can be used on HDPE (High Density Polyethylene) materials in certain applications.
Please review our chart below for help in selecting the proper shape and material type of welding rod for your application.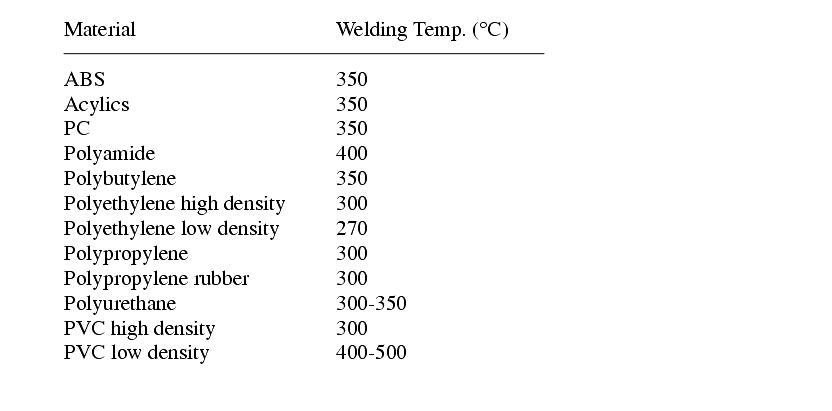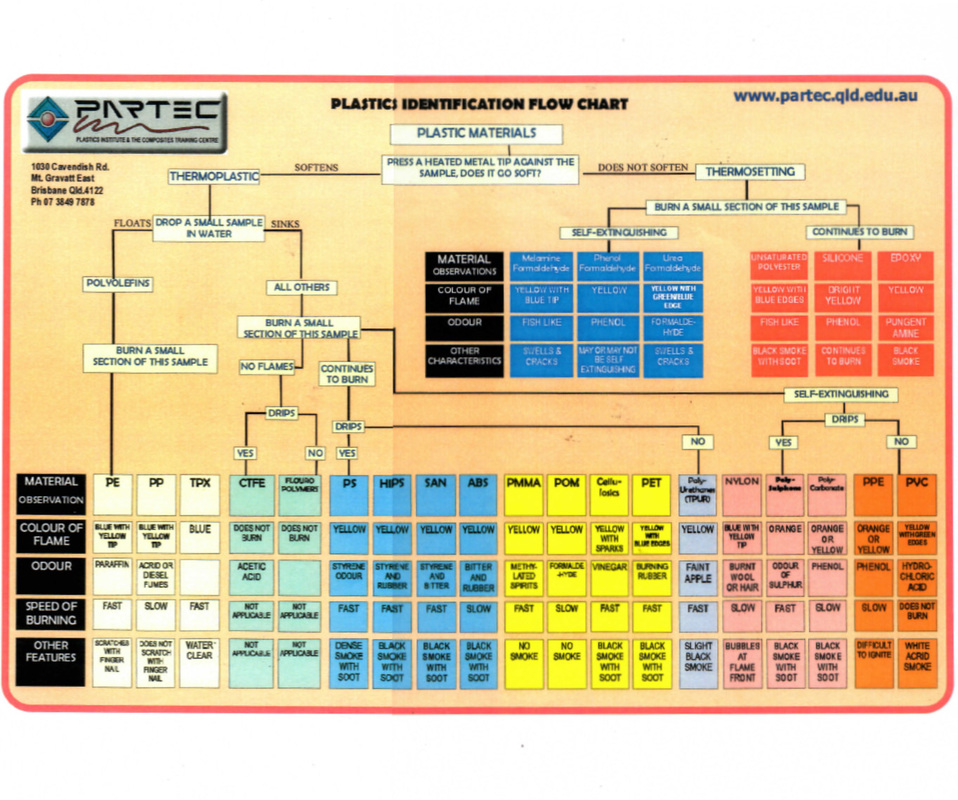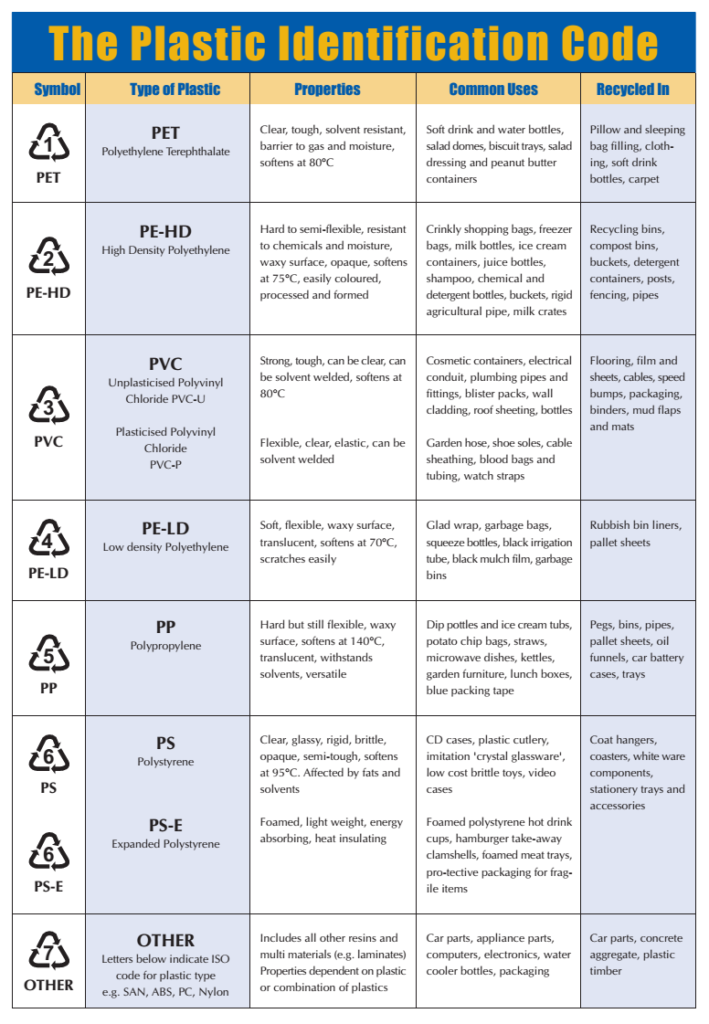 Below is a small sampling of the materials that we have worked with in the past in other applications for extrusion, plastic welding, plastic fabrication, vacuum forming and injection molding. Please note that not all of these materials have been tested for Plastic Welding and 3D printing applications and may or may not be available in our store.
Polypropylene
Nylon 6/6
Nylon 6
Nylon 11
Nylon 6/12
Nylon 12
Polycarbonate
Polystyrene
High Impact Polystyrene
Acrylonitrile Butadiene Styrene
Polyethylene
Low Density Polyethylene
High Density Polyethylene
Acetal
Polysulfone
Thermoplastic Polyurethane
Polyphenylene Sulfide
Polyethersulfone
Acrylic
Polycarbonate / Acrylic Alloy
Custom Alloys
Polyetherimide
Polyetheretherketone
Polyetherketone
Polycarbonate/ABS Alloy
Thermoplastic Polyolefin Elastomer
Styrenic Block Copolymer Thermoplastic Elastomer
Polyvinyl Chloride
Liquid Crystal Polymer
Polyphthalamide
Hot Water Moldable Polyphthalamide
Polyetherketoneketone
High Temperature Nylon
Thermoplastic Elastomer
Polylactic Acid
PP
PA 6/6
PA 6
PA 6/10
PA 11
PA 6/12
PA
PA 12
PC
PS
HIPS
ABS
LDPE
HDPE
POM
PSU
PPS
PES
PMMA
PC/PMMA
PEI
PEEK
PEK
RTPU
PC/ABS
TEO
TES
PVC
LCP
PPA
PEKK
PLA
Material Safety Data Sheets, Processing Guidelines and Material Property Datasheets are available upon request for any of the above materials.
This information is intended to be used only as a guideline for designers and processors of modified thermoplastics. Because design and processing is complex, a set solution will not solve all problems. Observation on a "trial and error" basis may be required to achieve desired results.
Data are obtained from specimens molded under carefully controlled conditions from representative samples of the compound described herein. Properties may be materially affected by molding techniques applied and by the size and shape of the item molded. No assurance can be implied that all molded articles will have the same properties as those listed.
No information supplied by WeldiPlast constitutes a warranty regarding product performance or use. Any information regarding performance or use is only offered as suggestion for investigation for use, based upon WeldiPlast or other customer experience. WeldiPlast makes no warranties, expressed or implied, concerning the suitability or fitness of any of its products for any particular purpose. It is the responsibility of the customer to determine that the product is safe, lawful and technically suitable for the intended use. The disclosure of information herein is not a license to operate under, or a recommendation to infringe any patents.